AREA STUDIES - BACHELOR'S DEGREE
First year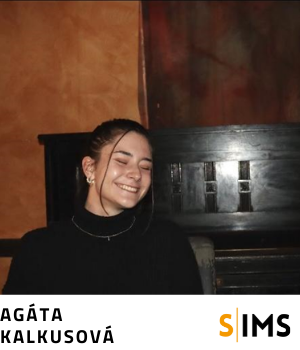 A first-year student of Area Studies with a deep interest in an Asian culture (primary South Korea and Japan). With other members she will take care of social events and academic matters.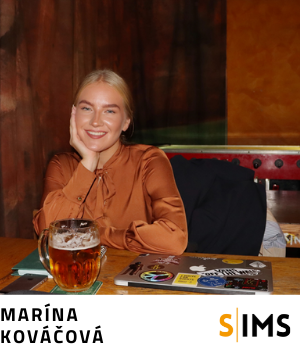 Full-time literature enthusiast and news-freak with an (un)healthy obsession for coffee and great conversations over a drink. I have many spheres of interest, but out of all, I enjoy reading and discovering new gastronomic concepts the most. Would never miss a chance to grab a Negroni or a French 75, but will most definitely be late. Will contribute to SIMS Graphic Team and record taking during the sessions.
First year area studies student. I like dancing, playing around with musical instruments, traveling, partying, cooking, chatting and so on. I would like to connect these hobbies listed with events on IMS through activities of the social events team.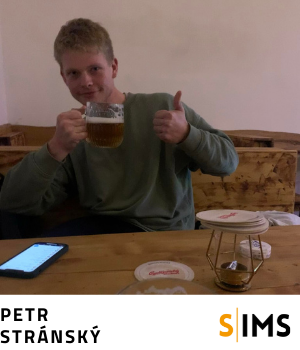 A first year Area Studies student. With great enthusiasm for the czech political scene. Petr also deals with Scandinavia and the future of civilization as a whole. On behalf of those who elected him, he is ready to fully participate in the running of SIMS. He will take care of and cooperate with others members in the preparation of events, both educational and party. If any problem arises, feel free to contact him!
Second year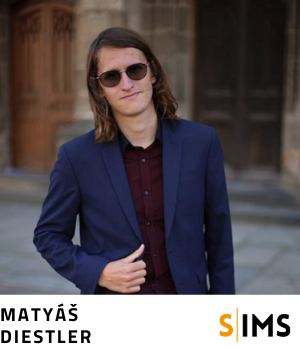 Matyáš, or called just Maty studies for two years at IMS, since the start of his studies he is also active in SIMS. The most comfortable space for him is a collective of some sympathic people, so he focuses on organisation of pub sessions and other events. He likes travelling over nice and interesting places, watching current affairs over the world and trying to understand them, what took him to and makes him a sense of studying at IMS.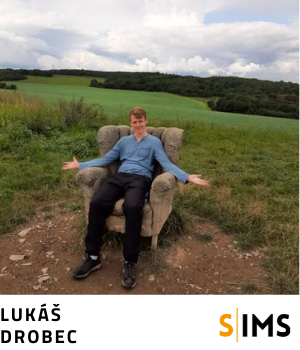 He is a second-year student of Area Studies. This association has very great potential, and therefore he defended his post until his second term. He will help his dear colleagues more in IMS administrative matters such as IMS promotion (DOD, merch, etc.). It will also serve as a recorder of IMS meetings. Even these positions, although so dull to many of us compared to other activities, are very important and he will be very happy to be able to participate in them.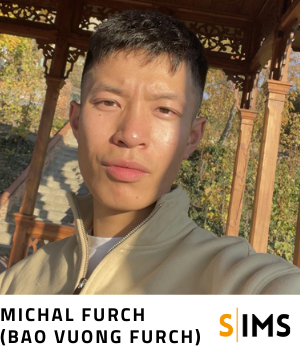 A student of the 2nd year of Area Studies at FSV CUNI, who joined SIMS for the first year and will mainly participate in the organization of social events and inter-club communication. He is particularly fond of travelling and eating good food, doing sports and spending quality time with friends. If you have any questions about study matters (especially for the 1st year), do not be afraid to contact him.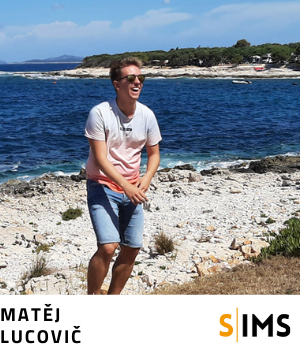 Second year of Area Studies Student, Internet bizarre and pizza Hawai lover. I am a new SIMS member, will take care of student parties organising and communicating with our younger colleagues. Just enjoy your studying as much as you can, SIMS is here for you! I travel a lot in my free time, do some sports and spend most of the time with procrastination, my favorite hobby.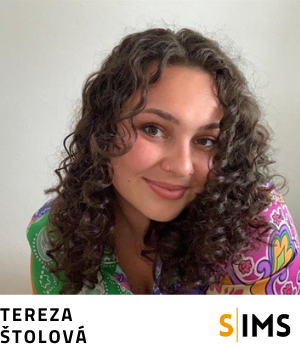 A second-year student of Area Studies, yet she is a new SIMS member. She enjoys events and the company of people and will try to engage "somehow everywhere". She's looking forward to seeing you at some party! She's friendly,  likes good wine and especially dancing! She will try to help you with everything, so don't hesitate to contact her. :) 
Third year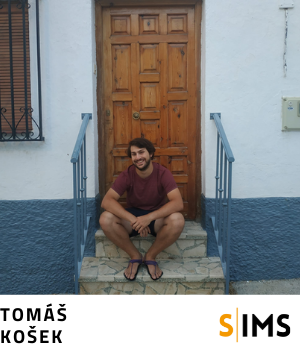 I am a third year student at IMS, a staunch opponent of Comic Sans and historically one of the smallest East Bohemians. But what I miss in height I substitute with my heart, which will come in handy in SIMS, to which I enrolled for the first time. So you will definitely see me co-organizing all sorts of events for both Czech and Erasmus students. Well, what to say about myself… In my free time I travel, I climb the wall, I do improv theater and I am an incredibly bad strummer on the ukulele. I like puffing my pipe while reading Patočka, singing while listening to Ray Charles from the gramophone, warming up by the fireplace in an alpaca blanket, and happy purring after eating shrimp with coriander, but most of all I love good company, excessive consumption (... add alcohol…) and loud laughter. So I hope we will create plenty of opportunities for it this year :)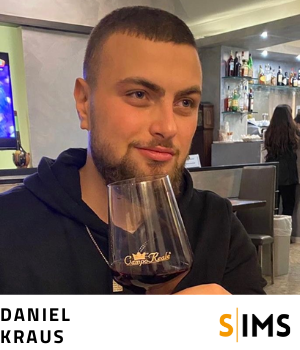 This is Daniel's fourth year at SIMS, as well as at IMS. Previously he was in charge of Facebook and SIMS events, but his main role is graphic designer. Last year he finally managed to create IMS sweatshirts, and he would like to expand the merch this year with t-shirts and canvases. He will be moving to England for a while in the summer term, but will continue to be an active member of the society from there. His extracurricular interests include pop culture, movies, music and journalism. At IMS, he is most interested in the United States, which is his primary focus during his studies. He can usually be found with a drink in his hand.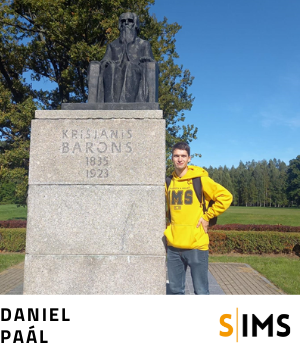 A citizen of Čelákovice, an "Elbländer", a Czech of Hungarian roots and a European. Currently a notional ambassador of the IIS to the Baltic countries - in the autumn semester, he is studying with Erasmus at the University of Latvia in Rīga, Latvia. Otherwise, he is a student of the 3rd year of Area Studies who hopes to successfully finish it with his Bachelor thesis and the state examination in the spring semester, praying for it now already. However, he will continue to publicly serve the institute in the meanwhile, following the previous two years.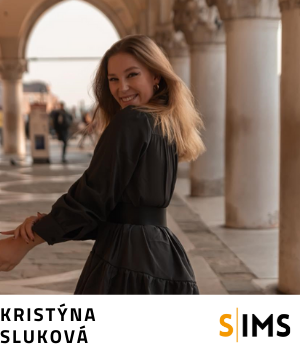 Vice-President for PR
Kristýna is studying the third year of Area Studies. She has been in SIMS for the third year as a photographer and administrator of our instagram. She again became vice-president for PR. At IMS, she is most interested in the North America region and languages. In her free time, she is mostly devoted to photography, reading and playing games.
CZECH-GERMAN STUDIES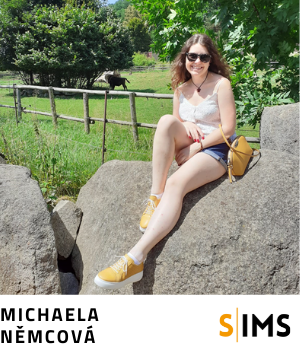 Chairman of SIMS
For me, SIMS is already an inseparable part of studying at IMS, so this year for the fourth time I decided to participate in the co-creation of student life at our school. I am up for every fun and even more so when I can be a part of its preparation. There are great people at IMS, thanks to whom it is always a wonderful feeling to prepare a party, an introductory course, our beloved canoe trip or just chilling evening with beer. I would love to continue organizing various events this year as well, so I hope that after an involuntary covid break, we will manage together to re-energize IMS life, as it should be <3 In my free time, I like to sit down with friends, play some board games, go on a trip or bake something. I'm an extroverted, sometimes loud and mostly smiling person, so I'm already looking forward to the whole year ahead of us and to shared experiences :)

An IMS newcomer in the first year of bachelor program Czech-German studies. He enjoys all kinds of events, with his organizational experience ranging from a music festival to informal educational projects wants to contribute to the development of IMS. Although he likes to socialize, his vocation is mainly administrative work and he is engaged in academic matters. He loves mountains and nature, but his busy schedule allows him to see them predominantly just in the instagram posts.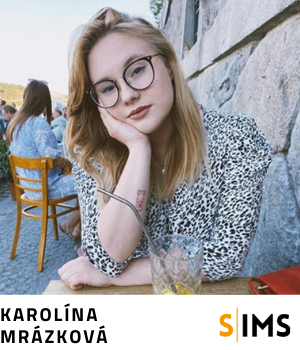 Karolína is studying Czech-German Studies (CGS). This year she would be primarily involved in communication with students as part of the PR team and email management.  Her personal goal is to make studying more comfortable and enjoyable, especially for the CGS students, who so far (every year) face many administrative hurdles. Despite the tasks already assigned, she is happy to help with anything and anyone. In her spare time, she mostly enjoys music, politics, cooking, film and fashion.
AREA STUDIES - MASTER'S DEGREE
Balkan and Central European Studies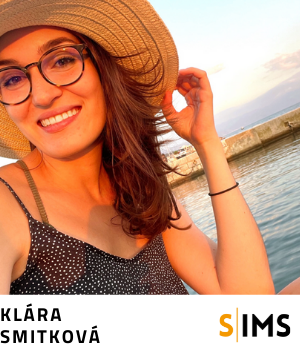 Vice-Chairwoman for academic matters
Klára is in the 2nd year of her Master's degree in Central Europe and the Balkans. After last year's debut in SIMS, which she was absolutely thrilled with, she joined the association again this year and gained the position of Vice-Chairwoman for academic matters. She enjoys meeting other members, organising events for other students and getting involved in the Institute.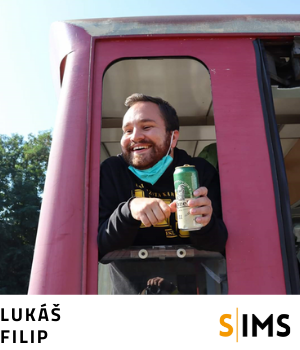 Vice-Chairman for social events
Lukáš is a first year Master's student specialised in Central Europe and the Balkans, however it's his fourth time in SIMS, as he has also joined the organisation every year of his Bachelor's studies. This year he is spending the winter semester in Gdansk on an Erasmus+ stay, however he still wants to do his part in SIMS even in a distance form. After his return, he'd like to continue his work on social events, as well as in other aspects of student life. If the situation allows it, you will find him on any SIMS event going out of the city (or perhaps even the country).
European Studies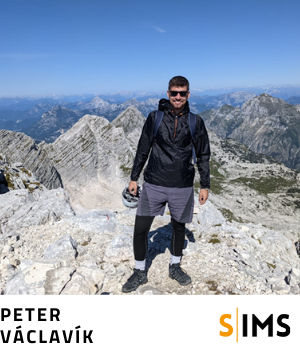 Peter is a first year Master's student of European Studies and this is the third time he has been part of SIMS. As in previous years, he is determined to actively participate in the running of the student association, to continue his previous work and to help his younger classmates whenever necessary. His hobbies include discussing various topics, politics both European and international, diplomacy, sports(basketball), art & culture, learning foreign languages, as well as spending time with his friends and classmates. Peter also enjoys exploring new places and travelling around Europe.
North American Studies

André is a longtime sympathizer/admirer of everything SIMS has been able to take care of, build and accomplish during its existence. Now he is finally a full-fledged member and he is willing to do everything in his power to maintain a professional yet fun atmosphere within SIMS as well as outside it. Even in the covid age he will lobby for the most possible social gatherings and events of all kinds. In his spare time, he loves hiking, travelling and his hobbies include politics, cars, film and the animal kingdom. He is always up for the next fun thing. 
AREA STUDIES - DISTANCE STUDY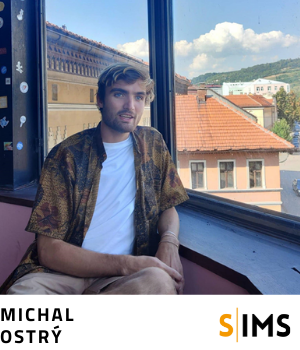 It would be hard to meet Michal at university. He is finishing his bachelor's degree in distant form and he joined to try including his classmates from distant studies into the IMS life.
DOCTORAL STUDIES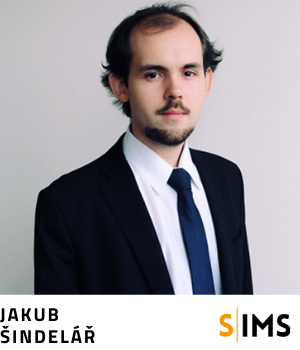 Jakub is in his fourth year of PhD in Modern History and is a graduate of West European Studies. He joined SIMS because he wants doctoral students to be represented as well in the IMS self-government (SIMS) and for them to have someone to turn to with any problems or suggestions for improving the conditions of their studies. He is also the vice-chair of the Czech Association of Doctoral Researchers (ČAD) where he is trying to improve the conditions of doctoral studies in the Czech Republic.
HONORARY MEMBERS
Matyáš Bubeník
Jakub Dolejš
Anežka Kotková
Barbora Krempaská
Jan Kužela
Nick Ojo Omorodion
Jakub Šmejkal
Eliška Ullrichová
Sára Žáková