AREA STUDIES - BACHELOR'S DEGREE
First year
David Kalina
David is the first-year student of Teritorial studies. It's his first year in SIMS and he'll try to liven your year up, by organizing party and sports events along with other members of the SIMS crew. In his free time he likes to go to gym, plays PC games or joins his friends in the pub.
Tasks: Social events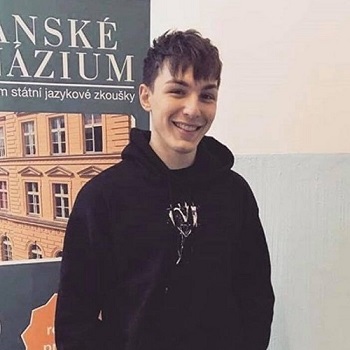 Matyáš Diestler
Matyáš, called Maty, is a student of first year of Area Studies. He is a member of organisation teams of social and cultural events in SIMS, he also organises events out of school. He applied to IMS because he is interested in history, politics, public affairs and finding new knowledge.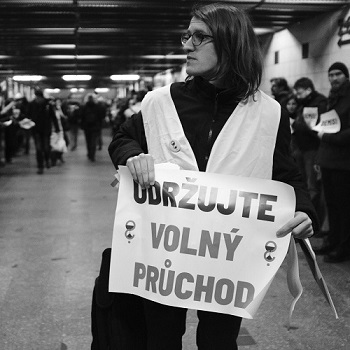 Tomáš Čevela
Tomáš studies the first year of Teritoriální studies . His post in SIMS is organising of events.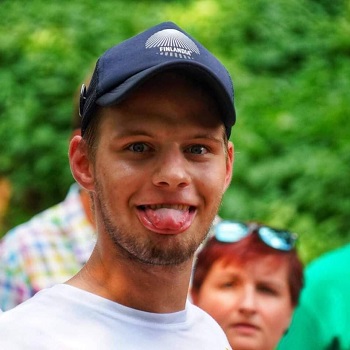 Lukáš Drobec
Lukáš studies the first year of Teritoriální studies of bachelor program. He is a graduate of buisnes academy Českoslovanská akademie obchodní in Resslova Street. He candidated to the post of propaganda of the FSS UK in high schools and show the future university students not just what everything offers the FSS UK, but also what thay can have for benefits as students of the Charles university. Lukáš' hobbies are: history of the Roman empire, travelling through southern Europe, studying southern languages (professional spanish, in the future the italian language too), diplomatics and international relationships of the Czech republic.
Tasks: Promotion of IIS on High schools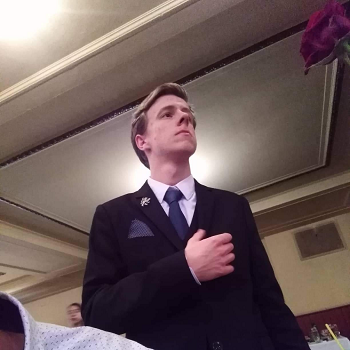 Second year
Kristýna Sluková
Vice-Chairwoman for PR
Kristýna is studying the second year of the Territorial Studies. For the second year in a row, she has been working at SIMS as a photographer and administrator of our instagram. She has also recently become vice-president for PR. At IIS, she is most interested in Western Europe and learning language. In her free coronavirus time, she is mostly devoted to photography, reading and playing. 
Tasks: Photographer and Administrator of instagram
Matěj Appelt
This is his second year of Area studies. While being demotivated by the distance learning, he decided to add one more Zoom session to his programme, this time in the form of SIMS meetings. He hopes however, that in the second part of this academic year he will be more in school, rather than behind the computer, and that he will have an opportunity to organize various interesting discussions and lectures.
Tasks: Organization of discussions, Graphic design
Vojtěch Michal
Student in the second year of Area studies. He is contributing to the work of SIMS for the second, and despite the current and unfortunate situation, he wants to do his best in order to make student events possible. The area within Area studies, he is interested in the most, is post-soviet space, therefore he wants to continue to study that after bachelor. He devotes his free time to cycling and, if possible, drinking beer. One day he might contribute to a national revolution.
Tasks: Party team, Communication with other student organisations, Sports tournament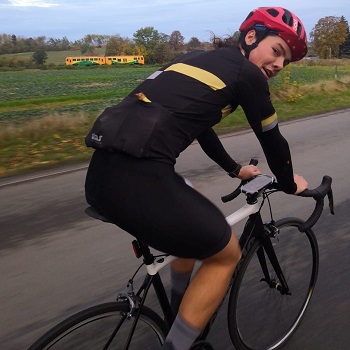 Jana Mužíková
Student of the second year of Area studies. In her second year she is here to defend her position in assisting SIMS with organizing events. Passionate lover of good coffee, alcohol and morning wallow. She is lazy and uncreative. Partner for every mischief. Her heart and accent belongs to Pilsen. Despises cycling and gloomy weather.
Úkoly: Party team, Communication with other student organisations, Merch IIS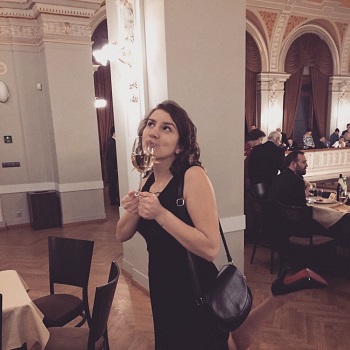 Anežka Kotková
Anežka is in the second year of her studies of the program " Area Studies". She joined the SIMS for the second time and she hopes that her membership will be also beneficial. This year, her main goal is to make the distance life of students more pleasant. She will devote to organize interesting discussions. Her greatest passions are delicious food, coffee, and sparkling wine. Now she is almost at home instead of the non-covid time she dances acrobatic rock and roll or trying the patience of her friends.
Tasks: Organization of discussion, Communication with other associations of FSV, IIS management meeting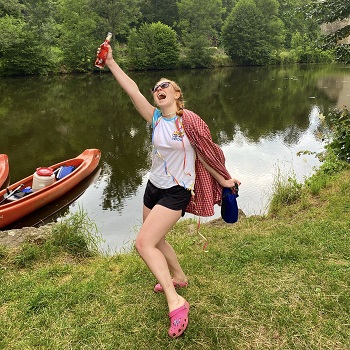 Daniel Paál
A citizen of Čelákovice, an "Elbländer", a Czech of Hungarian roots and a European. He's studying the 2st year of the Area Studies (bachelor) which means he has found his idols in Stephen Báthory, Jonas Basanavičius or Charles I of Austria. He loves history, geography, politics, watches sports, plays table tennis and Dobyvatel (knowledge game), often travels around the Czech Republic and Europe, especially by train <3 - in the picture you can see the shortest international railway on the Earth. His most favourite regions are Central Europe (the former territory of Austria-Hungary) and the Baltic States (Lithuania, Latvia, Estonia), learns all their official languages. He "dela vse, kar dela Pahor" ("does everything Borut Pahor does") in the SIMS. But seriously! He's responsible for stenographing the meetings, remindering of all tasks and deadlines, partially operation of Facebook and most importantly PubQuizes organisation, he plays it in his free time.
Tasks: Facebook, Pubquiz IIS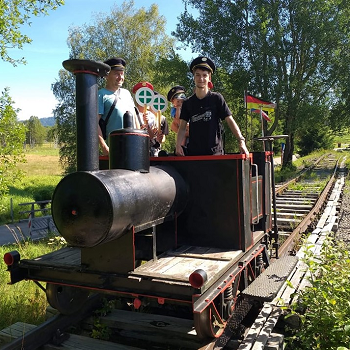 Třetí ročník
Alexandra Cholevová
Alex is studying the third year of International Area Studies, so she should pay all her attention to her bachelor thesis. She is in SIMS for the first time and she would like to work on social activities, at least online. Mainly because she is very social herself. Apart from being with her friends, watching movies, reading, traveling and necessary procrastination in the form of cooking, she also likes sport (sometimes), learning languages and, last but not least, her cat.
Úkoly: Organization of discussions, Merch IIS, Party team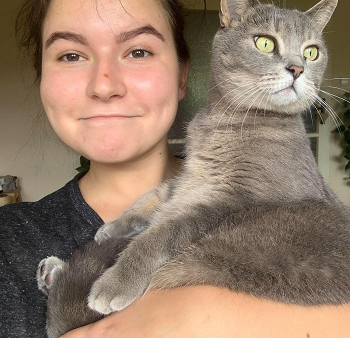 Lukáš Filip
Lukáš is in the third year of his studies of the programme "International Area Studies", and it is also his third year in SIMS. He would obviously like to continue the work he's done in SIMS so far, but he also wants to take part in some new activities this year. In his last year's profile he wrote that he likes travelling and spending the evenings with his friends drinking beer. Even though the current times aren't favourable to either of those activities, he is trying to come up with different ways of staying in touch while being away from each other.
Tasks: Treasurer, Party team, Management meetings, E-mail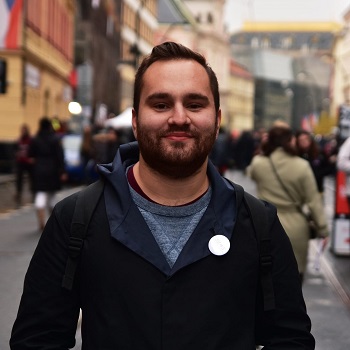 Jakub Šmejkal
Jakub is studying his third year at IIS and he has been at SIMS for the third year. His main domain is the administration of Facebook and the SIMS website, as well as the preparation of social events, from beer gatherings, or currently online gatherings, to lectures. As a true alcoholic, he attends every party, but as a hearty bearer, he feels best in a pub with an eighth pint of beer.
Tasks: Facebook, Social events, Lectures, Web SIMS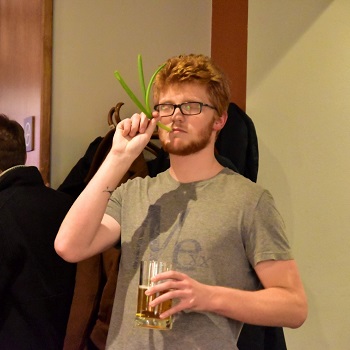 Peter Václavík
Peter is a third year student of International Area Studies at the Institute of International Studies and this year is his second year in services of SIMS. As well as the last year, he is willing to actively participate in the activities organized by SIMS and to continue the previous work, so as helping the younger students with any questions/problems they might have. The things he is interested in include discussions about a variety of different topics, politics both european and international, diplomacy, sport especially basketball, art, learning new languages so as hanging out with his friends and classmates. 
Tasks: Management meetings, SIMS FB, Sport tournament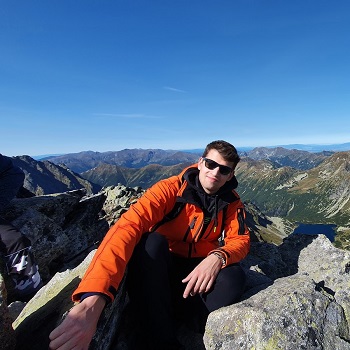 Daniel Kraus
Daniel is in his third year of IAS and is a member of SIMS for the third time. His main occupation in SIMS is multimedia, most importantly graphic design - which is his passion. This year he would finally like to finish the new merch he has been working on for some time. Apart from that he is managing the Facebook page and is also a member of a few sections of SIMS. He is interested in pop culture, underground, films, journalism, good music (mainly funk&jazz), american sports culture and local breweries. His favourite territories are the United States and the Middle East, primarily Israel. Coronavirus interrupted his operations on the black market.
Tasks: Graphic designer, SIMS FB, multimedia, party team, lecture team, IMS & SIMS merch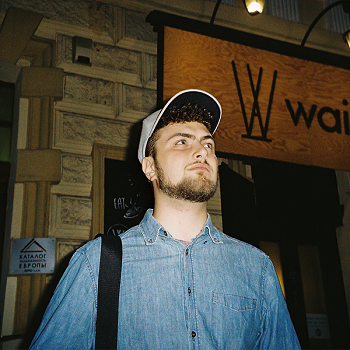 CZECH-GERMAN STUDIES
Michaela Němcová
Vice-Chairwoman for social events
Michaela is in her third year of Czech-german studies and she's a part of SIMS for the third time as well. She's mostly invested in organising various events and social activities like parties, beer gatherings, board games or let's say canoeing trips. Although current covid-filled time isn't the best for enjoying the student life, she never loses her enthusiasm and comes with new possibilities to have fun. As a SIMS member this year she would love to lighten the spirit of Zoom-bored students with everything not law-breaking (hopefully in person soon) and also to score two on the last year's successful paddling trip. Her hobbies include cooking experiments, travelling, board games and music. Most favourite drink: Wine.
Tasks: IMS leadership meetings, Cooperation with other student clubs of FSS, IIS paddling trip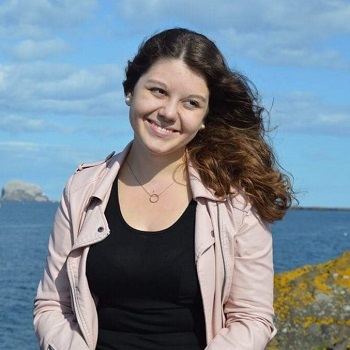 Radka Malcová
Student in the 3rd year of Czech-German studies, but in SIMS for the first time. You won't meet her on the street without headphones, because without music she won't even go. Along with the ban on concerts, her main hobby ended: painting glitter on friends for concerts (which Václav Klaus would call a left-wing fad). And so only the leadership of an eurofederalistic association and sending of dumb memes remained. Always makes fun of herself although being in crisis 24/7 (she may look like a princess, but she still takes out the garbage and drinks beer after that). According to her friends: a strong and independent woman, a drinker, happy and depressive at the same time, a caring "mother" ... She believes that she will use her care and dedication in SIMS to help younger students. In addition, she will communicate with other student associations at the faculty, organize debates and help with anything that will be needed.
Tasks: Organisation of debates, Cooperation with other student clubs of FSS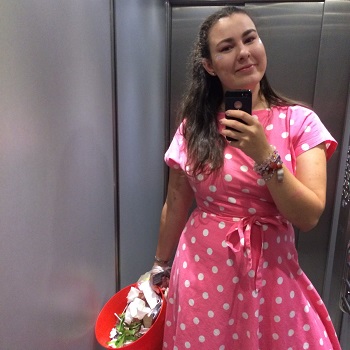 Karolína Mrázková
Karolína is in her 1st year of Czech-German studies. She comes with a new and constant energy. She would like to enrich these unfavorable times with new ideas and projects. On the top of the tasks, she is happy to help with anything. In her spare time she devotes mostly to music, politics, cooking, film and fashion. 
Tasks : Organizing leisure student events - PubQuiz, Party, Sports events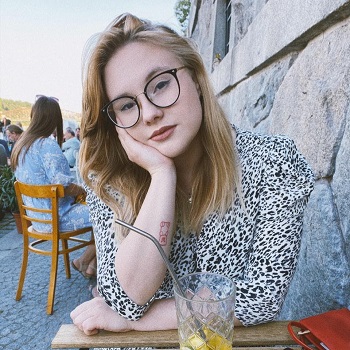 AREA STUDIES - MASTER'S DEGREE
North American Studies
Filip Šourek
Vice-Chairman for academic matters
Filip is, at the moment, in the first year of his studies of North-American Studies. He also engages in Academic Senate of the Faculty of Social Sciences CU (where he is a member of the Social commission and Commission for external relations of the AS FSS CU), in Disciplinary commission and also holds a post of a research assistant of the Department of North-American Studies. In his academic activity, he focuses on social questions and human rights in the United States, Mexico and Canada and on the history of gender and LGBTQ community in the same region. Reading, beer and swimming are among Filip's hobbies. Filip firmly believes that this year's SIMS will be as successful as ever!
Tasks: Communication with the leadership of institute, Quiz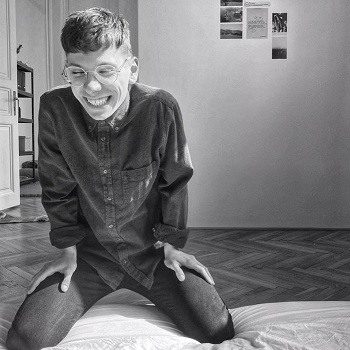 German and Central European Studies
Bára Krempaská
Barbora has been a permanent member of SIMS since the first year of her bachelor's studies. For years, she has been trying to use her extroverted and spirited nature in organizing various unforgettable student events and helping students in the fight with administrative problems, while at the same time drawing the minority of students focused on Germany more into the life of the institute. She is currently spending a semester in Krakow, where she enjoys it very much and where she wants to use the time to work on her diploma thesis so that she can successfully complete her studies this year. Besides studying and spending time with her friends, she loves Netflix, enjoys cooking and traveling, which is associated with her interest in history, politics, foreign languages and cultures.
Úkoly: SIMS email, Social events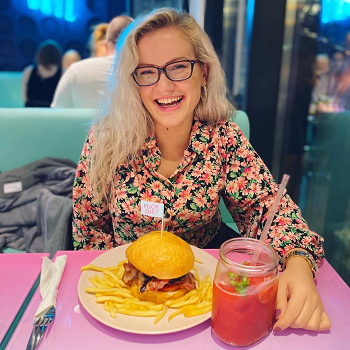 Western European Studies
Nick Ojo Omorodion
Chairman of SIMS
Nick is studying in the second year of the IAS West European Studies master's specialization, and he is one of the true veterans at SIMS, as he was elected for the fifth time this year. This is the second time he has held the post of chairman. He believes that despite the coronavirus crisis and the associated lockdown, SIMS will be able to organize social life at the institute this academic year as well. Nick's hobbies include sports, especially team ball games, spending time with friends over a jug or a bottle of some good beverage, foreign languages (this year he started learning German at IIS), music including playing the guitar, series, movies and even cooking. :)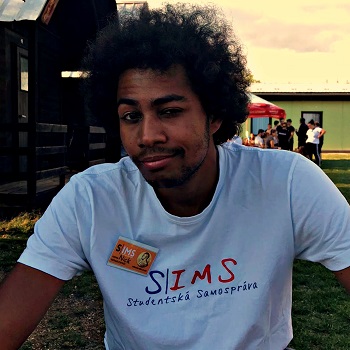 Balkan, Eurasian and Central European Studies
Klára Smitková
Klára is studying the first year of  the master specialization 'Central Europe and the Balkans'. She mostly focuses on the history of Post-Yugoslav states and on Romania. Even though it's her fifth year at our institute, she decided to join SIMS this year for the very first time. Her tasks in SIMS are mainly to attend meetings with the management of the institute and to help with organizing online quizzes for students. Apart from this, she also wants to help her fellow students from the Balkan specialization with their needs. In her free time she enjoys dancing, going for 'walkies' with her enormously huge dog and she never says "no" to a beer with her friends.
Tasks: IIS management meetings, Slack, Online quizzes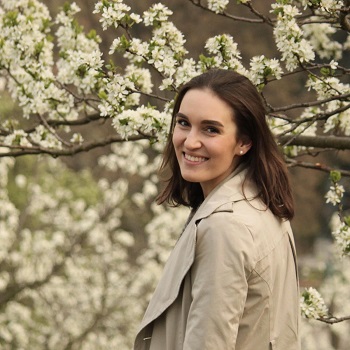 Karolína Kracíková
Karolína is in her second year of a master's program, her specialisation is the Balkans and Central Europe. In the past, her academic interest has been focused on the former Yugoslavia (especially Serbia), but currently she is fascinated by Belarus. As part of her studies, she often spends time abroad and therefore she will be happy to give advice on such programs. She is currently in Belarus, fully enjoying the Stalinist Empire and lessons in Belarusian language.
Tasks: Discussion on the topic of Belarus, organization of other social events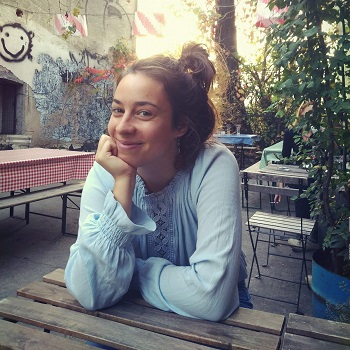 Russian and East European Studies
Josef Rauvolf 
AREA STUDIES - DISTANCE STUDY
Michal Ostrý
You will meet Michal at school more by chance... He is studying from distance Area studies and joined SIMS to try to involve a very large group of his classmates in the events at IMS. For his side assignments, he set out to dispel myths about distance students. He tries to go offline in meetings*
*Whenever the pandemic will be over
Tasks: Help for other distance students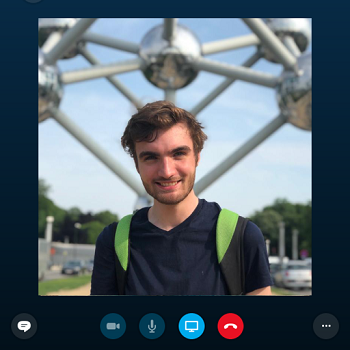 DOCTORAL STUDIES
Jakub Šindelář
Jakub is in his third year of PhD in Modern History and is a graduate of West European Studies. He joined SIMS because he wants doctoral students to be represented as well in the IMS self-government (SIMS) and for them to have someone to turn to with any problems or suggestions for improving the conditions of their studies. He is also the vice-chair of the Czech Association of Doctoral Students (ČAD) and is trying to start a group for doctoral students at FSS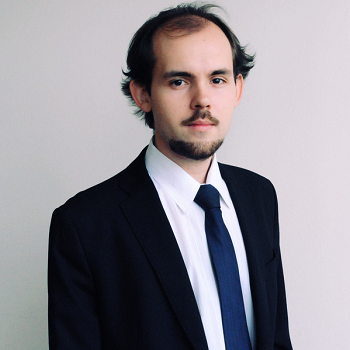 HONORARY MEMBERS
Bára Navrátilová
Eliška Černovská
Filip Šourek
Janča Prokopjuková
Verča Čechová
Matyáš Bubeník