November 17 - debate with IMS academics and educators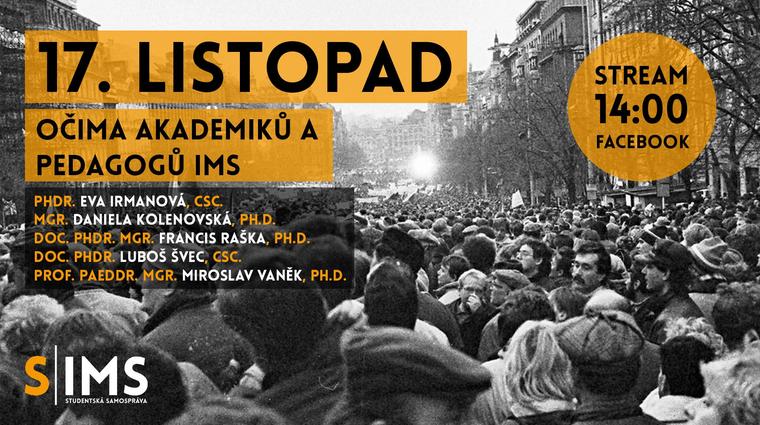 November 17 - debate with IMS academics and educators
How did the IMS academics and educators experience November 17, 1989?
Did they get directly involved in downtown Prague?
What were their hopes, expectations, and ideas about post-revolutionary development?
And what transformations has academia undergone in the last 31 years?
It is not just these questions that we will be asking and then debating with five representatives from the academics and educators of the IMS.
Our invitation was accepted by:
PhDr. Eva Irmanová, CSc.,
Mgr. Daniela Kolenovská, Ph.D.,
doc. PhDr. Mgr. Francis Raška, Ph.D.,
doc. PhDr. Luboš Švec, CSc.,
a Prof. PaedDr. Mgr. Miroslav Vaněk, Ph.D.
The debate will be moderated by Anežka Kotková and Matěj Appelt.
The event is for all students. During the debate, you will be able to ask questions via the comment section. You can follow the Facebook events or on SIMSu's FB website for more info.
The debate will be held in Czech.
Join us this Tuesday, November 17 at 2 p.m., we look forward to seeing you!