Congratulations to KSAS members on publishing a new book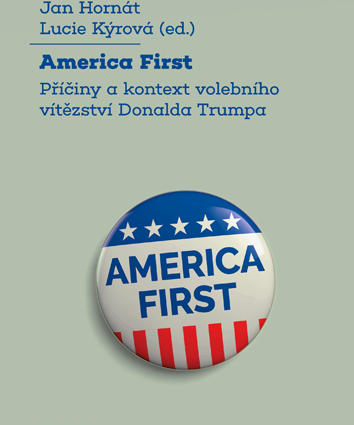 Congratulations to KSAS members on publishing a new book
Congratulations to the Department of North American Studies on publishing a new publication, America First: The causes and context of Donald Trump's election victory. Several department members, including doctoral students, participated in this publication, led by Jan Hornáta and Lucie Kýrová.
An unconventional candidate, an unprecedented president? Why did Americans choose such a controversial figure as their head of state? What were the causes and context of Donald Trump's election as US president, and what strategies and themes did he gain support from voters? The aim of this book is to describe and analyze the ways in which Donald Trump has exploited the cracks in Americans' socio-economic and cultural cohesion to achieve electoral victory. The book provides a deeper, contextual understanding and decipherment of the chess background to Election 2016, making many of Trump's actions more readable to observers in the Czech Republic than they appear in his media portrait.
Currently, understanding Donald Trump's election victory in 2016 provides the necessary context to understand his loss in the 2020 presidential election. This publication should therefore definitely not be missing in your libraries.
More information: https://karolinum.cz/knihy/hornat-america-first-23675