Workshop of project InKoNa (Interkulturní kompetence mladých vědkyň a vědců z Česka a Bavorska)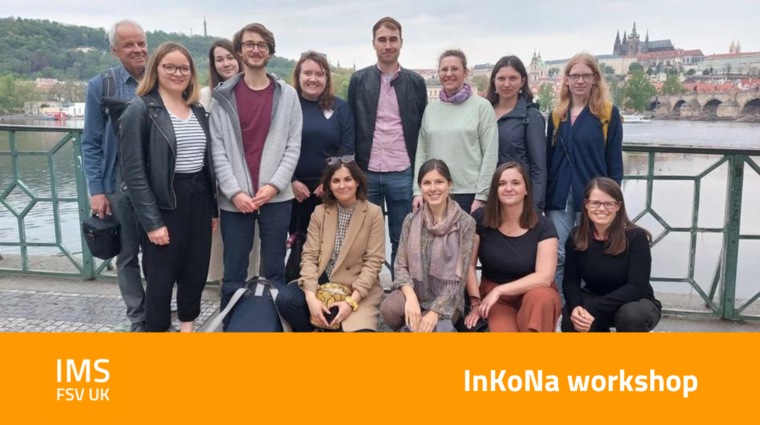 Workshop of project InKoNa (Interkulturní kompetence mladých vědkyň a vědců z Česka a Bavorska)
On 6-7 May, the workshop of the project "InKoNa 2.0" took place under the guidance of Magdalena Burger and Jörg Wolstein (Ott-Friedrich-Universität Bamberg).
The workshop was co-organised by Anežka Brožová (Department of German and Austrian Studies, IMS FSV UK) and Václava Bayerová (Austrian Cultural Forum in Prague). The meeting was attended by ten master and doctoral students from five different countries, studying at different universities in Bamberg, Reich and Prague.
The joint weekend started with a guided tour of Prague by historian Karolina Bukovská on the topic of the clash of German and Czech identities and communities in the city's history. The first day ended at the Střecha restaurant with an intercultural program. On the second day, participants gathered at the Austrian Cultural Forum for a joint intercultural training. In addition to explaining basic theoretical concepts in the field of intercultural competence, the workshop was used for the participants to critically perceive intercultural differences, reflect on existing models of intercultural communication and exchange their experiences. In addition, they had rich discussions about general value frameworks and especially about Czech-German cultural standards. The participants learned more about the meanings of different levels of culture and prepared themselves for dealing with so-called Critical Incidents. The discussion also focused on the challenges and opportunities presented by the coronavirus pandemic. Constructive conversations and positive feedback at the end of the workshop showed that face-to-face meetings are even more valued than before after the pandemic experience.
You can read more about the InKoNa research project in German on the Otto-Friedrich-Universität Bamberg website.