Academic Roundtable: Contemporary Challenges for Central Europe (COVID, Brexit, and Beyond)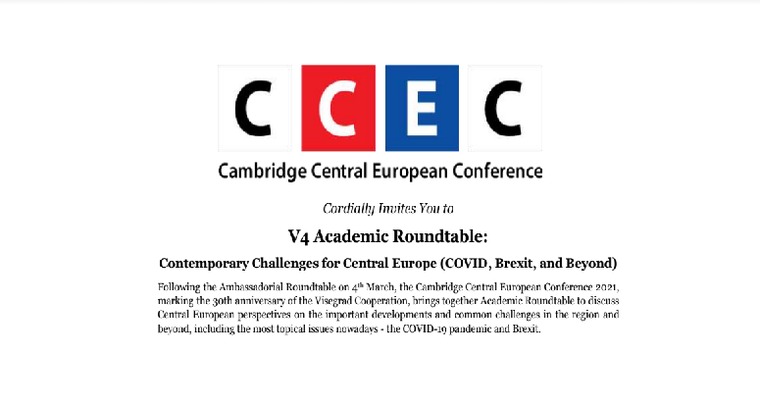 Academic Roundtable: Contemporary Challenges for Central Europe (COVID, Brexit, and Beyond)
Following the Ambassadorial Roundtable on 4th March, the Cambridge Central European Conference 2021, marking the 30th anniversary of the Visegrad Cooperation, brings together Academic Roundtable to discuss Central European perspectives on the important developments and common challenges in the region and beyond, including the most topical issues nowadays - the COVID-19 pandemic and Brexit. The speakers are:
Dr. Olga Gyarfasova, Assistant Professor, Comenius University (Slovakia)
Dr. Sandor Gallai, Associate Professor, Corvinus University (Hungary)
Dr. Tomas Weiss, Associate Professor, Charles University (Czech Republic)
Dr. Mikolaj Kunicki, Adjunct Professor, University of Wroclaw (Poland)
The roundtable will take place online on 18th March at 6 pm!
You can register through this link: https://cam-ac-uk.zoom.us/webinar/register/WN_fFl61cX1RCqqqPvD9lTyJg
More information available at the OFFICIAL EVENT POSTER.