Charles University and St Andrews: Successful research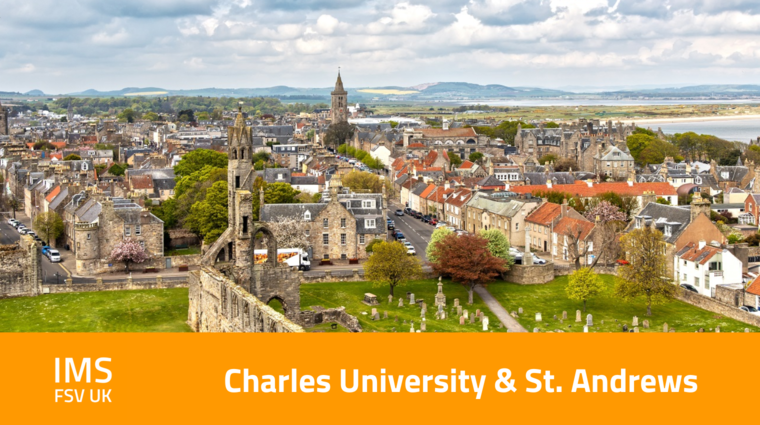 Charles University and St Andrews: Successful research
Researchers from Charles University have been involved in exciting joint projects with partners from the University of St Andrews, Scotland's oldest university, as part of CU's strategic partnership. From setting up virtual networks and intensive workshops for early-stage researchers to investigating climate change impacts, Joint Seed Funding brings together complementary expertise from the Czech Republic and Scotland. With a new call imminent, we caught up with 2022's joint seed funding winners to see how their projects had evolved.
Symbolic borderworlds
Narratives of migration, borders, histories and traumatic memory have rarely been more central than they are today. Professor Kateřina Králová (of the Department of Russian and East European Studies, Charles University) is working with Dr Stavroula Pipyrou (Social Anthropology, St Andrews) to build a cross-disciplinary network of researchers investigating these topics. Professor Králova explains: "Our regular webinar series provides the opportunity to discuss our academic interests, fieldwork and best practice. While our focus is central, east and southeast Europe, the webinars also discuss research projects conducted around the world. Our participants' diverse research topics and experiences enriches our understanding of symbolic borderworlds in a more global setting. We hope to contribute to the successful completion of Ph. D. students' theses and create opportunities for future collaboration between young researchers, departments and universities."
---
You can read the whole article here or you can see the one written by Joseph North here
New call for projects open
The first call demonstrated a great interest in mutual cooperation. As a result, the two universities have decided to continue jointly funding projects in the coming year. A new call for projects is currently open and can be found on the Strategic Partnerships Centre website or the University of St Andrews website.
Authors: Joseph North, Jaromír Soukup
Photo: CU archive, Shutterstock